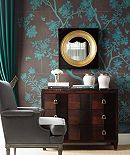 Exhaustion doesn't even begin to cover how I feel after attending High Point Market 2017. Between running from one showroom to the next, meeting fellow interior designers and attending informative workshops, I am physically beat. High Point Market may have ended on Wednesday, April 26th, but it has re-invigorated and energized many designers, including me.
Occurring twice a year for 5 days, High Point Market is the premier event for the home furnishings and furniture industry. The most talented furniture and accessories designers in the country gather here to display their newest collections. Meanwhile, some of the greatest interior designers, decorators, bloggers and press agents get firsthand access to incredible collections and amazing trends.
Determining what's a trend and what isn't is a careful exercise in market research, taste and timeliness. In fact, the Creative Director of Baker and McGuire Furniture, Tristan Butterfield, shared with me that furniture design is not about arriving 15 minutes early, but instead arriving 3 minutes early. In other words, if the world is not ready for your design or if your design comes too late in the game, it won't succeed on the market.
This couldn't be clearer than when you are witnessing a consistency among new or continuing trends during the course of 5 or 6 days at Market. Here are 6 trends I observed during my time at High Point Market.
Metallics/Iridescents
From metallic orchids to iridescent rugs, shiny metals were everywhere at High Point. The reflective qualities of metal work especially well in rooms with dark colored walls and in spaces where there is very little natural light.
Brass/Gold
Brass has been trending for many years now and High Point Market was no exception. Global Views, Regina Andrews, and Henredon were just a few of the companies that were featuring gold front and center. Not only is gold still considered very current, but mixing metals is another way to incorporate brass or gold if your home is mostly filled with nickel or bronze hardware.
Blush Pink
It's no secret that blush pink has been very popular in the design industry, but it's getting more and more exposure now. Full on pink sofas, chairs and even walls are on the horizon. One of my favorite ways to combine blush pink is with emerald green and neutrals.
Sunburst Mirrors/Sunburst Lighting
Sunburst mirrors are still all the rage. We often see sunburst mirrors in brass, but now they are hitting the market in silver, green and other colors too. Regina Andrew was featuring sunburst lighting, not only on the ceiling, but as sconces on the wall.
Rustic Furnishings
High Point Market made it evident that rustic furniture and furnishings are not going away any time soon. From Coaster Furniture to Magnolia Homes, rustic and distressed finishes were hotter than ever. These types of finishes are easy to take care of since any new dings or scratches look like they've been there all along.
Vintage Rugs
I have always been more attracted to contemporary or graphic rugs, but even I have to admit that I am starting to see the light. Vintage rugs, like Persian rugs, allude to the past but have more of a modern feel to them. Vintage rugs work especially well in mid-century modern, contemporary, Bohemian and modern spaces. Loloi Rugs and Feizy Rugs at High Point made this statement pointedly.
Final Thoughts
Trends have a way of coming and going in the design industry. Many of the trends I saw at High Point Market have been around for some time and they seem to be in it for the long haul. However, when looking at trends, be sure that the ones you choose to follow are ones that you can live with for a very long time.