Is your kitchen making you feel like an "OutKast"? With all of the drool-worthy kitchens we see on Pinterest and Houzz, it's hard not to want to gut your entire kitchen and start so fresh and so clean, clean. From oversized pendants to waterfall islands to whiter than white kitchen cabinets, the kitchen of your dreams is just within reach or is it?
Before you speed dial your favorite banker, let's crunch the numbers. The truth of the matter is that a kitchen makeover can cost anywhere from 30–100K (or more) depending on your cabinetry, flooring, backsplash, lighting and appliance selections. Unless you have that kind of cash stashed in the bank, you may end up with a kitchen nightmare instead of a dream.
Hardware For the Win!
Switching up the color or material of your hardware is one of the quickest ways to improve your cabinetry! Brass, nickel or acrylic hardware will instantly make your kitchen pop.
If you are upgrading your hardware, but not your cabinets, opt for the same type of hardware you previously had. In general, there are three types of hardware: knobs, pulls or latches.
Hob Knob
Knobs are the simplest and often most inexpensive type of hardware. As small as they are, they give you just enough leverage to open cabinet doors easily. While they can be used on both doors and drawers, they are typically found on doors.
Knobs are the only case in which you may be able to go from a knob to a pull. Since knobs only have one singular hole, it is possible to add another hole to accommodate a pull, granted the pull isn't too large.
Pull Ups
Meanwhile, pulls are most commonly seen on drawers. Because they have two access points, they allow you to pull your drawers open without too much hassle. In more contemporary spaces, doors are also outfitted with pulls.
Latch On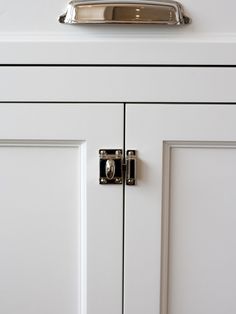 Latches, on the other hand, are used more sparingly and can only be applied when two doors meet in the center. It is much more cumbersome to open latches so I suggest only using these on doors that you do not need constant access too.
Hardware Sources
Unlike latches, you can use all pulls or all knobs on your cabinetry. One of my favorite vendors for hardware is Rejuvenation. They have some of the most current styles on the market.
Even though some of this high-end hardware can be costly, it beats spending thousands on a kitchen redo. But the best part is that if you ever do decide to rip out your kitchen in the future, you will already have the most beautiful hardware to go with your new one!